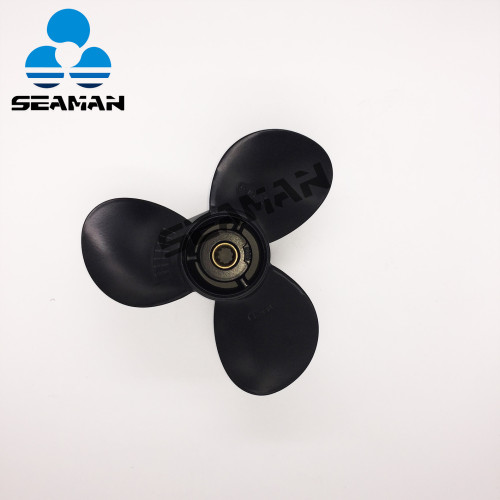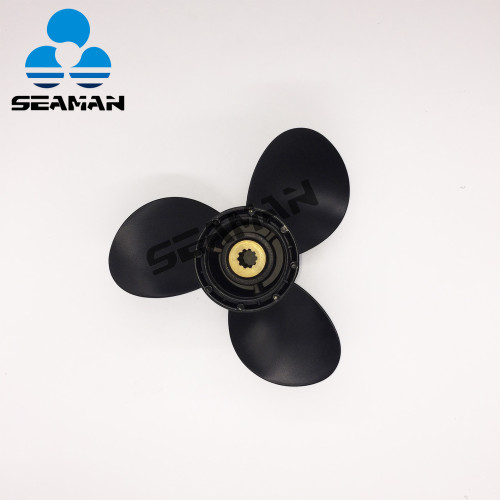 New 9 1/4 x9 For 9.9-15HP Outboard ALUMINIUM PROPELLERS suit for SUZUKI engine
Model

9.25 x 9
Min. Order

100 piece
Item specifics
conditions

new
rotation

R
Pitch

9
color

Black
Description
9 1/4 x9 For 9.9-15HP outboard engine ALUMINIUM PROPELLERS suitfor SUZUKI
Here we have an aluminum 3 blade thru hubpropeller for the Suzuki outboard motors listed below.
May fit other models as well.9-1/4 diameter x 9 pitch & 10 splines.
DT 9.9 1983-1987
DF 9.9 (4 stroke) 1997 &newer
DT 15 1983-1988
DT 15C 1989-1997
DT 15 (4 stroke) 1997 &newer
This prop fits these Johnson Japan Origin Suzuki outboards:
-9.9 Hp 4-Stroke 2002-2007
-15 HP 4-Stroke 2002-2007

This prop also fits these Suzuki outboards:
-DF15A, DF20A 2012 & newer
NOTICE!!!!!!!!!!!!!!The pitch of the propeller is extremely important! Ordering the wrong propellerpitch will result in poor performance. If you are not confident in yourdecision Email or call us we are happy to guide you.
Package contents:
1* OutboardPropeller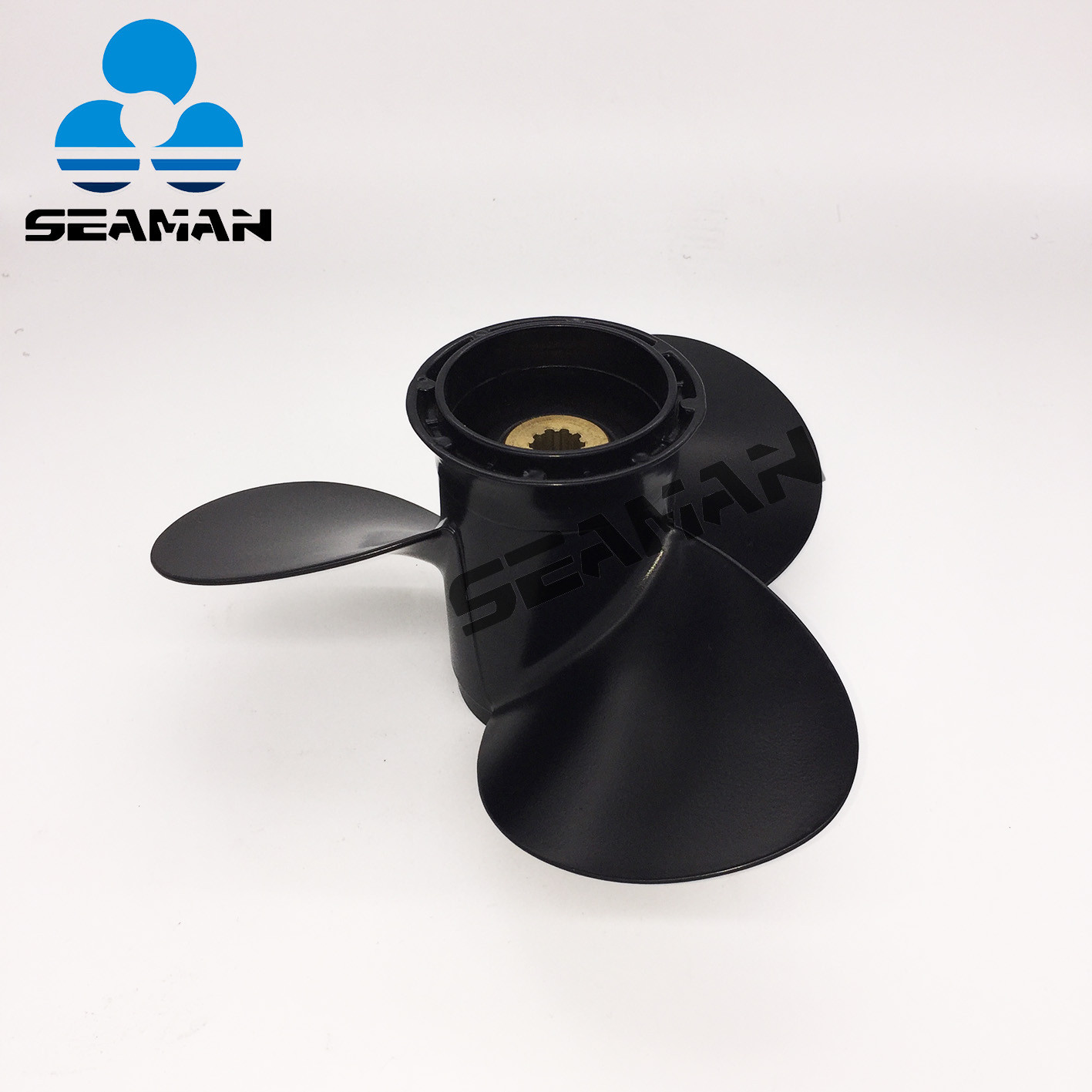 Note: The real color of the item may beslightly different from the pictures shown on website caused by manyfactors such as brightness of your monitor and light brightness

We strive for 100% customersatisfaction! Positive Feedback is very important to us. If you have anyquestions, please feel free to contact us. We will reply your email within24 working hours.

Seamam Marine is the leader professional propeller manufacturer with more than 10 years' experience. We are produceing stainless steel propellers and aluminum propellers from 2HP to 300HP and other outbard spare parts suitable for brands: Yamaha, Mercury, Suzuki, Honda, Tohatsu, Evinrude, ect.

We keep supplying high quality products to world wide. Seaman propeller has strict quality control system to ensure every propeller which received by our customer is qualified.

Quality inspection is carried out during Casting process, Machining Center, Painting and Packing for every propeller.

We also have a series of analysis equipment to assist the inspection such as Coordinate Measuring Machine, Rubber Torque Tester, Hardness Tester and Dynamic Balance Machine.

We have more than 400 models in stock now.

We do wholesale business,Looking for distributors to corporate with competitive price,feel free to contact us!
Seaman Propeller Catalogue and Price List
DATE:
info@seamanpropeller.com www.seamanpropeller.com
TERMS:
FOB QINGDAO
MOQ:
VALIDITY:
30 DAYS
Aluminum propeller
Engine(HP)
Dia
Pitch
FOB QINGDAO
2
7 1/4
5
A
2.5
7 1/4
6
BS
4-6
7 1/2
4
B
4-6
7 1/2
7
BA
4-6
7 1/2
8
BA
6-8
8 1/2
7 1/2
N
6-8
8 1/2
8 1/2
N
6-8
9
7
C
6-8
9
7 1/2
C
6-8
9 1/4
9 1/4
C
9.9-15
9 1/4
8
J
9.9-15
9 1/4
9
J
9.9-15
9 1/4
8
J
9.9-15
9 1/4
9
J
9.9-15
9 1/4
9 3/4
J
9.9-15
9 1/4
10
J
9.9-15
9 1/4
10 1/2
J
9.9-15
9 1/4
10 3/4
D
9.9-15
9 1/4
11
J
9.9-15
9 1/4
12
J
25-30
9 7/8
8
F
25-30
9 7/8
9
F
25-30
9 7/8
10 1/2
F
25-30
9 7/8
11 1/4
F
25-30
9 7/8
12
F
25-30
9 7/8
13
F
25-30
9 7/8
14
F
40-60
10 5/8
12
G
40-60
10 3/8
13
G
40-60
10 1/4
14
G
40-60
11
15
G
40-60
11 1/8
13
G
40-60
11 1/8
13
G
40-60
11 3/8
12
G
40-60
11 1/4
14
G
40-60
11 3/4
7 1/2
Pin Drive H
40-60
11 3/4
10
Pin Drive H
40-60
11 1/2
11
Pin Drive H
40-60
11 1/2
12
Pin Drive H
40-60
11 1/2
13
G
40-60
11 5/8
11
G
40-60
11 5/8
11
G
40-60
12 1/4
9
G
60-115
12 5/8
21
K
60-115
13
17
K
60-115
13
19
K
60-115
13 1/4
17
K
60-115
13 1/2
15
K
60-115
13 1/2
16
K
60-115
13 5/8
13
K
150-300
14
11
K
150-300
13 1/2
23
M
150-300
13 3/4
19
M
150-300
13 3/4
21
M
150-300
14
19
M
150-300
14 1/2
17
M
150-300
15 1/4
15
M
Stainless Steel propeller
Engine(HP)
Dia
Pitch
FOB QINGDAO
9.9-15
9 1/4
8
J
9.9-15
9 1/4
9
J
9.9-15
9 1/4
10
J
9.9-15
9 1/4
11
J
20-30
9 7/8
10 1/2
F
20-30
9 7/8
12
F
20-30
9 7/8
13
F
40-60
11
15
G
40-60
11 1/8
13
G
40-60
11 1/8
14
G
40-60
11 1/4
14
G
40-60
11 3/8
12
G
40-60
11 5/8
11
G
60-115
13
17
K
60-115
13
17
KL1
60-115
13
19
K
60-115
13
23
K
60-115
13 1/2
14
K
60-115
13 1/2
15
K
60-115
13 3/4
15
K
150-300
13 3/4
17
M2
150-300
13 3/4
17
ML1
150-300
13 3/4
19
M2
150-300
13 3/8
23
M
150-300
14 1/2
19
T
150-300
15 1/2
17
RH
150-300
15 1/2
17
LH
150-300
15 1/4
19
RH
150-300
15 1/4
19
LH
150-300
15
21
RH
150-300
15
21
LH